In today's digital age, email marketing has become a crucial tool for businesses to connect with their audience and drive success.
One expert in this field is Liz Wilcox*, whose expertise and insights have helped countless individuals and businesses master the art of email marketing.
In this blog post I'll give you:
An intro to the lady of the hour herself
A short and sweet rundown and review of Liz's offerings
Some of Liz's top tips for mastering email marketing
My final thoughts on how you can make your email marketing efforts better all around
If you want to TL;DR: I think Liz is awesome! She's smart, successful, and generous. You can only gain by trying her Email Marketing Membership* or one of her trainings. She's a person to know and keep an eye on if you're serious about maximizing your email marketing.
⭐⭐⭐⭐⭐ & 👍👍 & 👓
For the rest of you turkeys who want the longer version, keep reading!
Disclaimer: This post has affiliate links (indicated with an * where possible). If you click on an affiliate link and buy something, I may be compensated, at no additional cost to you. Thanks so much for supporting my lil biz!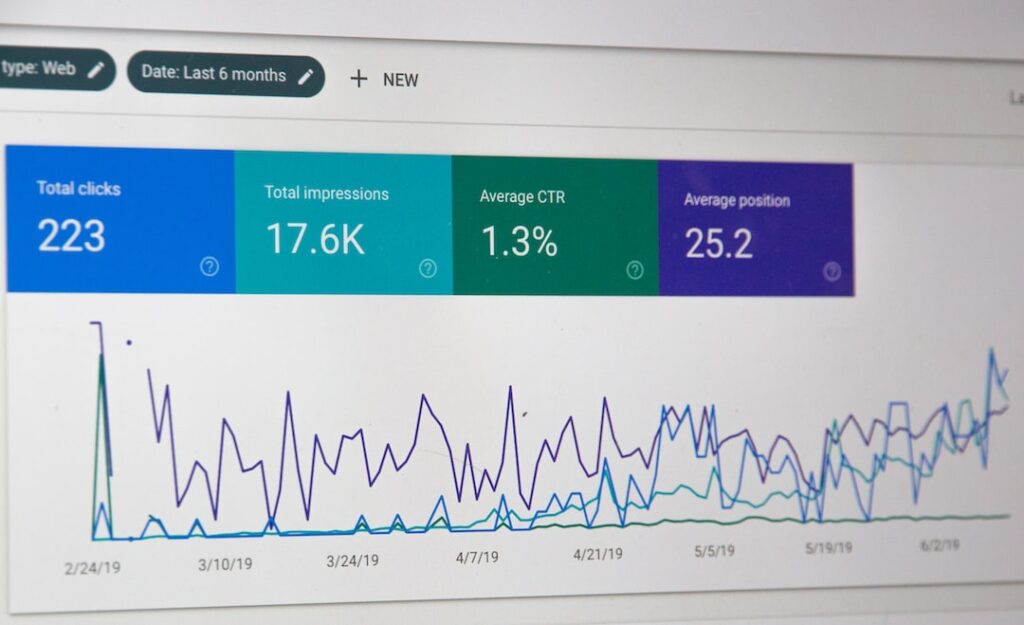 Email Marketing Is Important
Before we go too deep, let's make sure you understand why this all matters. Here's some context.
Benefits of Email Marketing for Businesses
Email marketing can be a powerful tool for businesses of all sizes. The benefits are numerous and can help drive growth and success in various ways.
First and foremost, email marketing allows businesses to directly communicate with their target audience. This direct line of communication enables businesses to build a strong and personal relationship with their customers.
(Bonus here: You own your email list. You aren't building your empire on borrowed land! Lookin' at you social media platforms….)
Additionally, email marketing is a cost-effective way to reach a large number of people. Unlike traditional advertising methods, email marketing allows businesses to send targeted messages to specific segments of their audience. This level of customization ensures that the right message reaches the right people at the right time.
Furthermore, email marketing provides businesses with valuable insights and analytics. By tracking open rates, click-through rates, and other metrics, businesses can gain a deeper understanding of their audience's preferences and behaviors. This data can then be used to refine and optimize future marketing efforts.

Statistics & Data Supporting Its Effectiveness
Email marketing has proven to be an incredibly lucrative marketing strategy. Let's take a look at this by the numbers.
On average, for every $1 spent on email marketing, the return on investment is $36. This showcases the high potential for generating revenue through email campaigns.
The number of global email users is expected to reach 4.48 billion by 2024. This vast user base presents a massive opportunity for businesses to reach and connect with their target audience through email.
Personalization is key when it comes to email marketing, and it's been shown to yield significant results. Various studies indicate that personalized emails have an open rate of 29%–47%, compared to the average open rate of 18% for non-personalized emails. Personalized emails also enjoy a 41% higher click-through rate than their generic counterparts. This highlights the importance of tailoring content to individual recipients to capture their attention and engagement.
Segmentation, another crucial aspect of email marketing, has also been proven to boost campaign performance. Segmented and targeted emails can generate up to a 760% increase in revenue, boost open rates and sales leads, and help prevent unsubscribes. By dividing their audience into specific segments based on demographics, interests, or purchasing behavior, businesses can deliver more relevant and impactful messages to each group.
In addition to these stats, email marketing allows businesses to track and measure their campaign performance through various metrics. This data provides valuable insights into how well your campaigns are doing and helps your business make data-driven decisions to optimize future email initiatives.
Who's Liz Wilcox?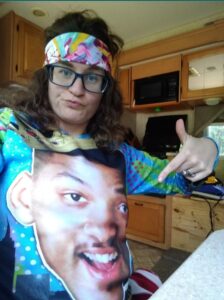 Why, she's just the Fresh Princess of Email Marketing!
But seriously, here's a tiny bit about Liz — what makes her qualified to help others with email marketing and what sets her apart from others.
Liz is a seasoned content creator, marketer, coach, speaker, and more.
She operates from a place of service — she's here to help others be and do their best in their businesses.
In the span of 5 years, Liz used email marketing to grow her biz to multiple 6 figures.
She has a bazillion glowing testimonials on her site from her thousands and thousands of customers.
Liz has appeared on many podcasts, emceed many events, and collaborated on webinars with countless businesses.
In all honesty, I think Liz has a bold, fun, wonderful personality that's just too big to encapsulate here. Her energy and generosity of spirit are what drew me in and what compel me to tell others about her. The fact that she's got email marketing chops and is so sharp is gravy.
Liz — the person behind the brand — is a huge selling point in my book. Fortunately, her offerings are great as well.
But, of course, this post has affiliate links so maybe you're questioning my bias? To that, I say three things:
I'm writing a whole post about Liz and her products and services, signed up as an affiliate (i.e., associating my reputation with her), and promoting her biz to my spheres of influence. Plus, I have firsthand experience with Liz, her mentoring, and her swipes, templates, and trainings. I'm a legit fan.
.
Tons of people RAVE about Liz and her offerings. She's got a massive client base, legions of alums, and an active army of affiliates. She's sought after as a speaker, host, or guest by other businesses. Can you say "social proof on steroids"?
.
You have agency! Make up your mind for yourself. You don't have to take my word for it. My recommendation is to check out her site*. There you can read her bio, cruise the testimonials, and get a better feel for Liz's style and approach — even grab her freebie*. See if it all resonates with you.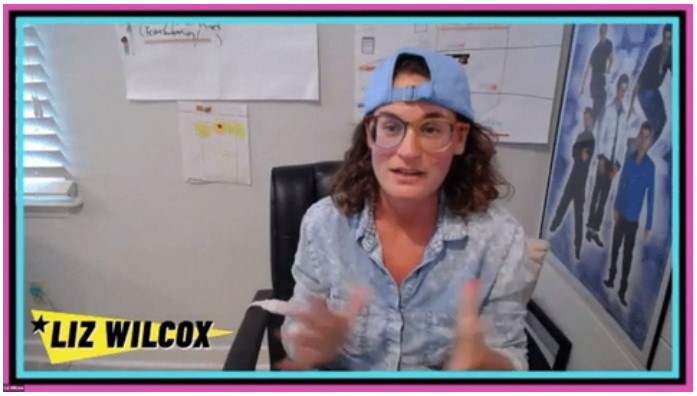 5 Tips for Email Marketing Success Learned from Liz
Moving on. I thought it'd be fun to share a few nuggets of Liz's magical email marketing wisdom.
To be sure, this is not meant to be exhaustive or even especially comprehensive. It's teaser-level — the sample to build your appetite for more!
These are tidbits I've gleaned from talking to Liz and absorbing what she includes in her emails. These tips gold for beginner-intermediate email marketers. Here's the genius she wants you to have:
Keep it short. Liz recommends considering 1-3 sentence personal updates rather than lengthy stories. (Bucking a trend, I know!) She also advocates for messages that are no more than 400 words long. Make messages scalable and a fast read, too.
.
Make it easy. If you want your reader to do something, Liz encourages you to make that call to action clear and simple to do. Don't hide the messaging or buttons/links. Don't make the reader work or think to hard about what's next — make it natural and obvious.
.
Stay on topic. Straying can confuse, bore, tire, etc. a reader. And what's not essential to your topic may just be distracting clutter. Liz is a fan of using email space strategically so your reader gets in, gets your message, and gets out ASAP.
.
Enjoy it. Liz frequently talks about finding ways to like email marketing — so you'll stick with it. For her, this means making it fun and as simple as possible. She does this by using language and imagery that reflect her style and by adhering to a no-nonsense "formula" for copywriting all her emails.
.
Create a system. Systems simplify and speed up email marketing. You can do this by creating or swiping templates that you just customize when you create your emails. Liz would be thrilled if your wash-rinse-repeat approach to email included her Email Marketing Membership*! (Details below.)
If you get on her email list*, you'll see that Liz follow all these guidelines herself. And her messages are always a worthwhile read and actually read by me. I never delete one without seeing what she has to say.

Email Marketing Resources from Liz Wilcox
Liz has a full menu of things for you to leverage. As a DIY email marketer, coach, digital product creator, etc. — you'll dig all this gold!
Email Marketing Membership
This is Liz's flagship product, and probably what she's most known for. It's ridiculously affordably priced, especially for what you get.
Monthly members* get new swipes/templates every month, access to a private community where Liz does Q&As, workshops, and more. At only nine bucks — just sign up and give it a try for a few months and see how it positively impacts your daily biz life.
With the annual membership*, you get everything included in the monthly plan PLUS access to ALL her past trainings and anything she creates in the next 365 days! However, Liz only opens the doors for new annual members a few times a year.
Also, my understanding is that Liz has exciting plans for the membership in 2024. Her intention is to add additional features and functionality to make it even better and easier to use. She's serious about y'all squeezing every bit of utility out of this thang!
Curious? On the fence? Liz's freebie* is a perfect way to get a taste of what Liz brings to the table.
🚨 BONUS ALERT 🚨
If you join the monthly* or annual* EMM using my affiliate link, you'll get a complimentary copy of my Reduce Inbox Overwhelm guide (a $5 value) — as a little token of thanks! (Your free gift is automatically delivered to you upon completion of your EMM purchase.)
Trainings Galore
($12-$149)
Liz's wheelhouse isn't restricted to her value-packed membership, though. There are so many critical topics that Liz has created training for.
I won't bore you with a recap of each one — you can find that on Liz's site and the names are pretty self-explanatory IMHO. But here's the laundry list of her popular workshops.
My Take on Liz' Wilcox 's Offerings
I haven't tried everything Liz has available. So, I can only speak specifically of what I have experience with and we can extrapolate from there.
Swipe emails and templates — I've used several. They're awesome! Liz organizes them really well so it's clear how to modify them to suit your needs. She also provides instructions or context for each email.
.
Trainings — I did a version of the Black Friday Training*. Liz laid everything you need to know out in such a simple, straightforward manner. Plus, I appreciate that there are all the swipes and templates you'll need. I'm signed up for Just Presell It* and can't wait to start it!
.
Coaching — I'm in a mastermind group that Liz leads. While this isn't something she offers directly, I did want to mention it because I think it speaks to her mentoring style and abilities. She always shows up with engaging topics, relevant information, and actionable ideas for us. She's really good at helping with the mindset aspect of running a biz as well, urging us see our wins and flip "negatives" into "opportunities." Liz is intelligent, encouraging, supportive, results-oriented, amusing.
.
Affiliate program — Again, not a product but something that can give you a ton of insight. I won't go into particulars, but Liz treats her affiliates incredibly well. She freely gives of her time, energy, and experience to assist affiliates in their efforts. She provides a boatload of swipes and assets for us. And she compensates affiliates better than what I've found to be the industry average (plus offers killer prizes for special promotions!).

Why You'll Love Email Marketing with Liz, Too
I'm gonna give it to ya straight. Learning from Liz, using her templates, joining her Email Marketing Membership* — they're bound to help you in numerous ways. But, in my mind, it boils down to this.
With Liz Wilcox on your side, you'll:
Save time
Save money
Save energy
All while experiencing real transformations in your biz, like:
Growing and nurturing your email list
Turning passive leads into engaged and loyal buyers
Creating and reinforcing your brand
Boosting conversions, sales, and revenue
Legitimizing your business with professionally written content
Streamlining your operations
Enabling yourself to focus more on higher-value activities
Could I keep going? Yup. Should I keep going? Mmmm, I think you've prob already caught my drift.
And a Healthy Dose of Happy
On top of Liz being a rockstar and her offerings being top-notch, I think everything she does just exudes a fun vibe. There's humor and lively colors and graphics. She presents everything in very approachable and engaging ways. Etc.
Because, let's face it — not everyone love love loves doing email marketing. Or maybe you don't mind doing it, it's just that email marketing doesn't come naturally. Either way, you're being asked to flex muscles that don't wanna be flexed.
So, from my perspective, if you have to do email marketing (and you should) and it's really "not your thing" — you might as well find ways to make it a more pleasant experience. ✅ Check!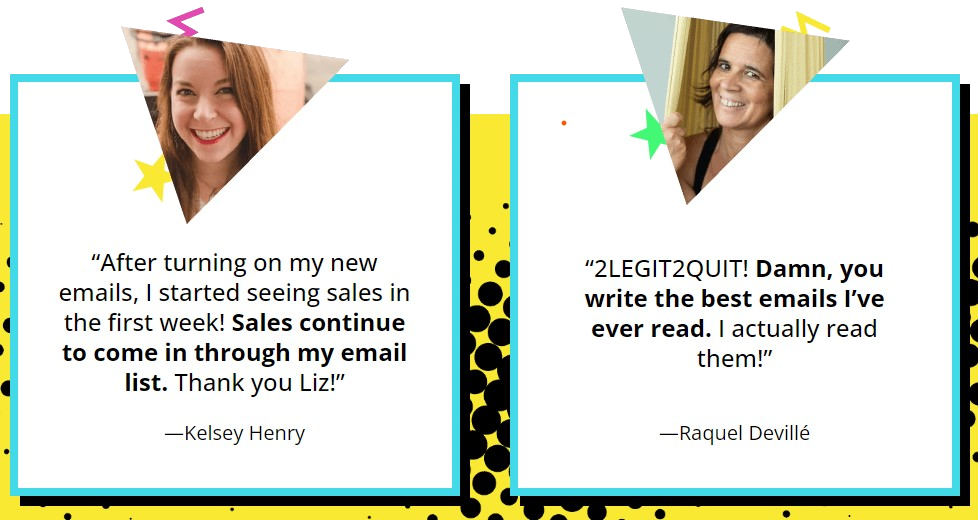 Welcome to FAQville!
If you're anything like other people, ya might have some questions. That's natural.
Luck day! I have answers. Here are the highlights. You can find a deeper dive into some of these questions on Liz's website*.
Is email marketing for you?
Email marketing is for every biz! Especially if you're interested in making more sales, driving repeat business, and reducing (or eliminating!) your need for paid advertising.

Plus, your email list is something you own and control. Your ability to market to people who've opted in to hearing from you (i.e., not 100% cold leads!) is valuable. It's a cornerstone of building a resilient and thriving long-term business.
How can these low-priced offerings actually deliver?
According to Liz, email changed her life and she wants everyone to benefit from email marketing. So, she ran the numbers for her biz and sets the lowest price she could offer and still make profit. Then she crams as much value as possible into each product for you.
You hate email and it just stresses you out. How's this gonna work for you?
Liz has designed everything for people who dislike email but know it's something they gotta learn and do for the benefit of their businesses. For example, the templates she shares are intended for you to customize and finish in 20 mins. Plus, it comes with a video walk-through. Basically, she's made it hella easy for you.
You're a butcher/baker/candlestick maker/etc. How's this gonna work for you and your unique biz and brand?
Liz's templates and trainings are designed to be flexible in that they can be applied to any given niche. For example, the email templates are like Mad-Libs — you just strategically fill in your details where Liz has put placeholders. Plus, she gives you tons of advice, examples, and support to truly help you adapt her offerings to serve your needs.
What if you don't have an email list yet? Hmm?
No sweat. Liz has resources for list building! And tons of ideas that don't involve buying ads.

Email Marketing with Liz Wilcox for the Win!
Email marketing is a powerful tool that can significantly impact the success of businesses in today's digital landscape.
Liz Wilcox's expertise and insights can help businesses master the art of email marketing. By following her tips and leveraging her affordable and value-oozing resources, you can take your email marketing efforts to the next level and achieve remarkable results.
I think Liz is a tremendous asset to any business, especially small- to medium-sized ones. She's got something to help everyone, regardless of the stage their business is at or the industry they're in. It's worthwhile to get to know Liz and explore her offers.
So, don't miss out on the opportunity to excel in email marketing — let Liz Wilcox be your [not-so-]secret weapon of success!

Disclaimer: This blog post includes affiliate links (indicated with an * where possible). If you click on an affiliate link and subsequently make a purchase from Liz, I may be compensated at no additional cost to you. Thanks so much for supporting me and my solo, woman-owned biz!